"Wari Rum" in Jordan- March.2006
| | |
| --- | --- |
| What is luxury? For some people, once on the day to take a shower is luxury. For Beduine, just cold washes in month is not in the least. For some Climber, well bolded route are badly needed. But in Wadi Rum, even belay stance is barely. We are in country of "Lawrence of Arabia", when adventurer and guerilla at the side of the Arabs are. Where barren and lonely countries is dominated, then the climbing is serious and the Sig (canyon) is tangle. Particularly when someone injured, the next Hospital ist in Aqaba or in Amman long way to drive. But Desert Mountains are unique and mythical, the isolation becomes all greater the more you go deep into desert. That's luxury, even miraculous! | Wadi Rum |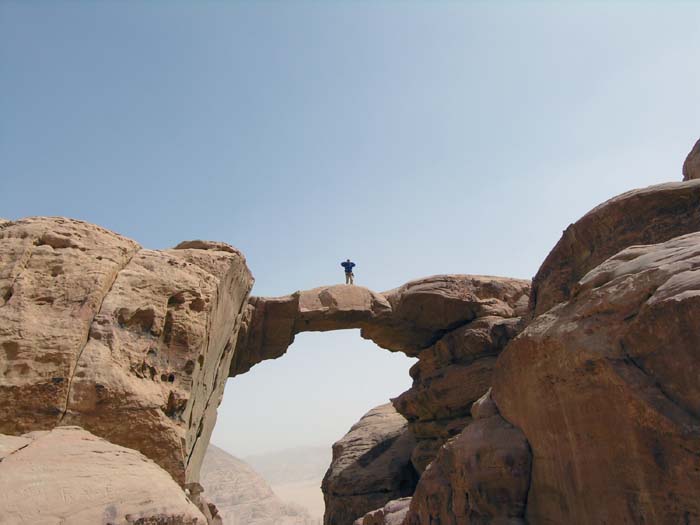 Wadi Rum

Where to buy Airline Ticket:
Where to buy airline tickets? In case you are booking through an agency, always specify you want the "lowest possible fare" as there may be specials which do not fall under "economy". Moreover, not every agency--even with the budget specialists listed below--will be equally competent or motivated to find the cheapest ticket. They may not know about a great deal the next store has been selling all week, or the booking may not merit bothering much. Often the best deals are offered directly by airline websites. In some cases you sign-up with the airline and they notify you via email of hugely-restricted but incredibly cheap specials a few days before the flight.


How to get there:
There are plenty ways to get there. Many Airlines fly to Sharm El Sheikh in Egypt (SSH), Taba in Egypt (TCP) or Amman Queen Alia in Jordan (AMM). I started from Sharm el Sheikh.A minibus was waiting for me heading to Dahab Sinai, where I stayed one night. It's a pleasant place to veg out and there are many western style chill-out bars, cafés and restaurants. The very next day in the morning I had a nice breakfast at the beach and got a minibus to Nuweiba harbour. I recommend you to organize a place to stay in Dahab before you start your journey. Also you can ask for a minibus shuttle from the airport. It's much cheaper then on-site. It's easy to find many camps and bungalows in internet. Nuweiba is located 70 km south of Taba, 180 km north of Sharm el Sheikh and only 110 km from Saint Katherine.
Auski Camp Dahab Sinai: 15 LE ( 2 EURO) per Night
Mail to Auski Camp


By Ferry : Travellers can cross the Red Sea between the egyptian port of Nuweiba and Aqaba via car ferry. Service runs daily and is said to outgo from Nuweiba to Aqaba around midday. Well, no one knows if the scheduled time of departure is actually the estimated time of departure. A one-way trip with car ferry takes three and a half hours and costs US$44. However, you can cut the time by paying US$ 54 for a one-hour speedboat, which is meant to leave Nuweiba at 12 noon. If you are heading from Aqaba to Nuweiba, egyptian visas can be acquired on board.

Note me emphasizing, in the first place you have to learn that scheduled times are prevailing meaningless in Jordan and Egypt. This is part of the flavour of travelling in many Arabic countries. It was pretty late when our car ferry docked at Aqaba harbour. My plan was to get to Wadi Rum by taxi in the night. But the offer submitted first to me was not acceptable - the price for the taxi was definately too high. So I waited for a little while, not losing my temper. Everything comes to him who waits! Biding the next offer and the following ones shortened the price amazingly. It took me about half an hour and the price fell from 200JD to 25JD! That's business as usual there. Friends of mine warned me about this before. Finally the journey started including me knowing the taxi prices in Jordan.
Where to sleep in Wadi Rum:
There are tents "furnished" with mattresses etc. behind the Resthouse in Wadi Rum village. And some Bedouin Camps or houses. My recommendation is to stay in a Bedouin house or camp, so that you can study Bedouin live and get in contact closely and easily. Beside that the Bedouins can organize minibusses, taxi, jeep tours, camel trips and individual guided tours for you. They can show you where to find ascent and descent of certain routes and can even find wellwater in desert.


Senset camp Website (Mohammed Sabah Al-Zalabeh)



Season:


December, January, February and March.


climbing guide books:
Treks and Climbs in Wadi Rum Jordan
by Tony Howard. "New update 4rd Edition is available in 2006"




climbing Gear:


The standard rack of gear used in the Alpen (Friends, Rocks, 2 x 60m ropes, Slings, helmet, sometime pegs) is ideal for Wadi Rum.



Clothing:


Due to the extreme range of temperatures from day to night, varying from about 40°C down to freezing in March it is also advisable to carry Fleece Jacket, Wind Stopper or lightweight Down clothing.



Food, eat and purchase:
Restaurant Gusthaus. There are few Mini Super Market in Wadi Rum. You can buy only very basic foods, including fresh bread. You can cook by Mohammed. They equiped a small kitchen.

Excursion: Petra:
Ca. 1 hour by Taxi from Wadi Rum. By Mini bus is cheap. Ask Mohammed.
Petra Gate Hotel: 5 $ Night. e-mail: petragatehotel@hotmail.com







Copyright © 2006 by Otsuki