Home Route Photos Videos Links
ladakh / India / Sep-Oct 2010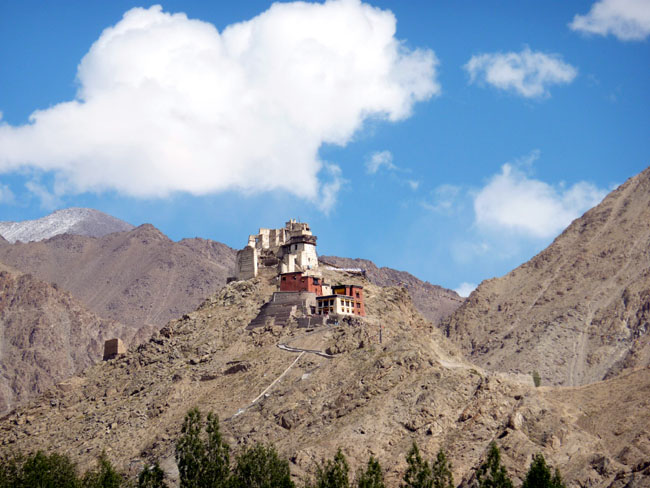 Leh Palast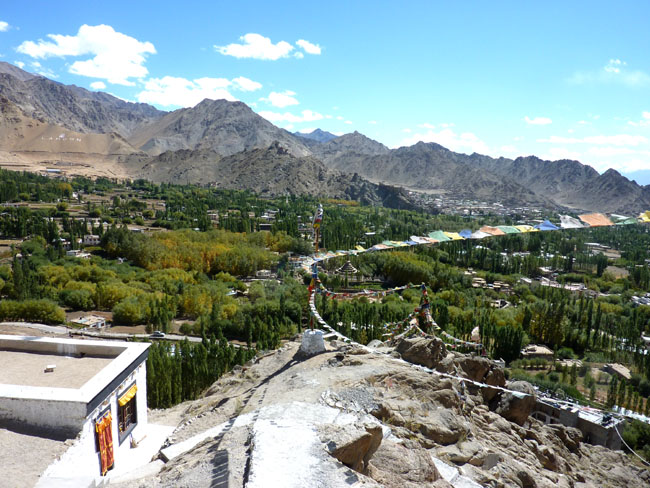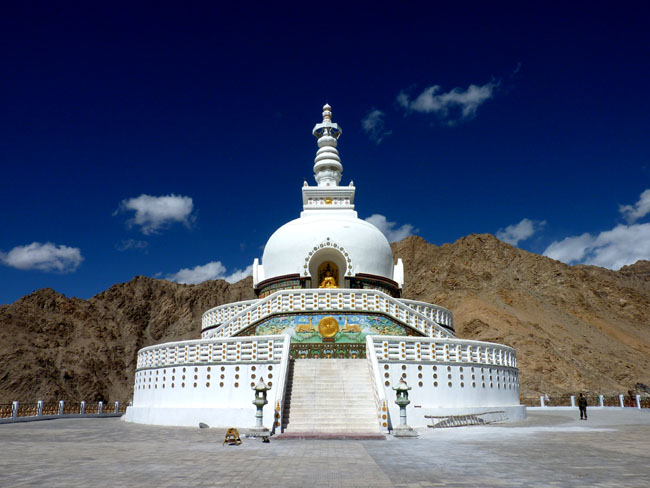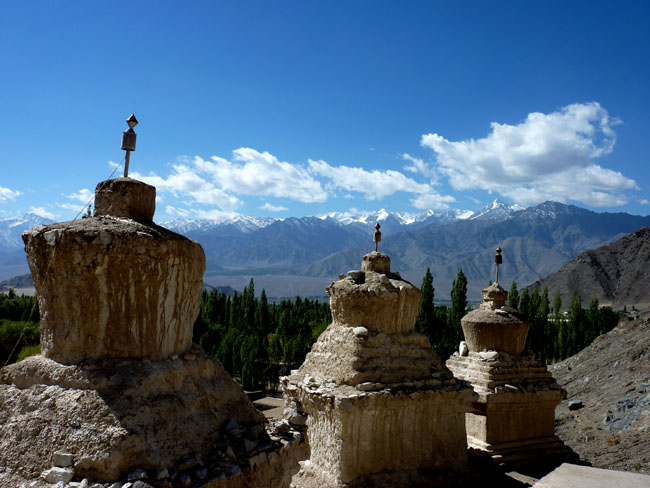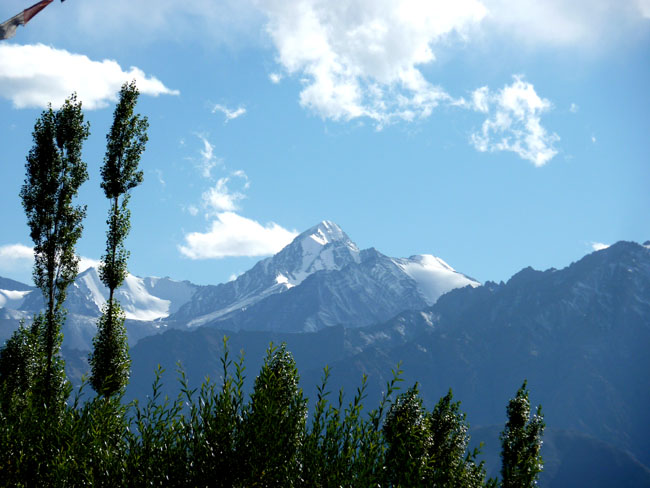 View of Stok Kangri from the town of Leh. Stok Kangri is a quite popular climb for trekker coming to Ladakh due to its relatively easy access from Leh, and the end of September weather prevalent stable and dry. And since i didn't feel like walking in a large caravan of people and "Good thing" in the end of season is that no one ask your climbing permit!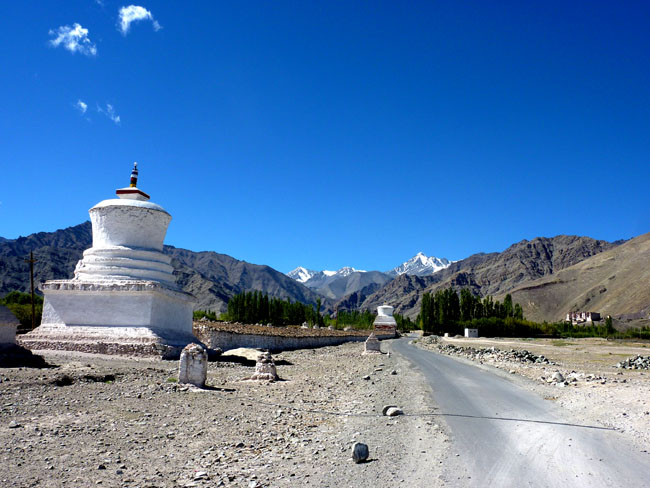 Village Stok and Stok Kangri far off. I prepared 4 days of trekking with cross over two high pass (Stok La 4800m and Gonda La 4900m), in the hope sufficent for Stok Kangri.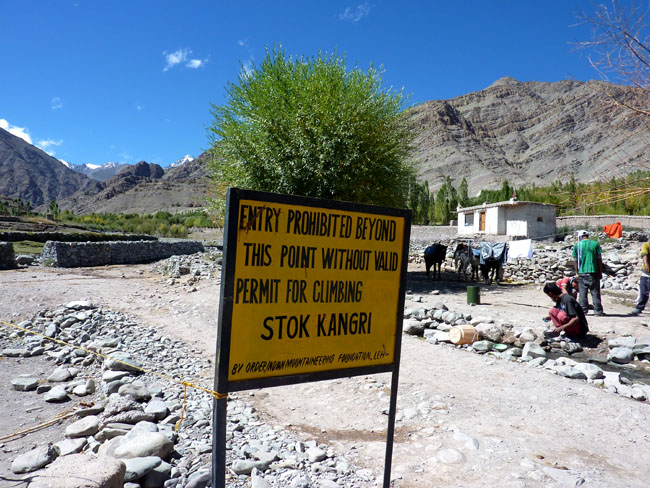 Trekking start point in Stok. There are two Tee-shops here and to be expected control my climbing permit. But i'm not intend to climb Stok Kangri, not now and since no one interested my presence, so i just pass through the check point. Saved Climbing permit fee 2000 Rupies!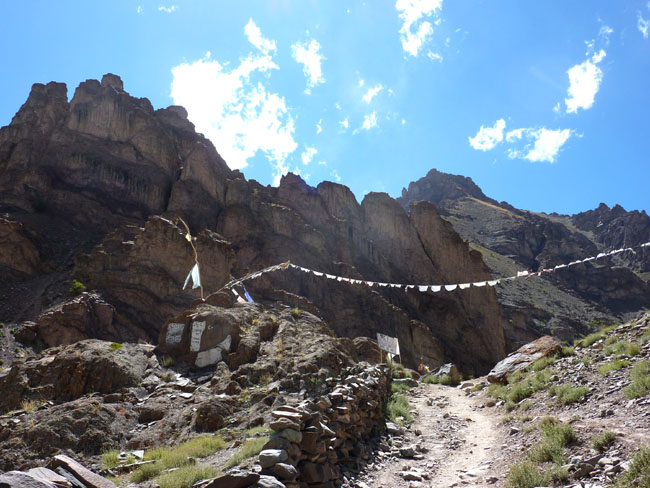 Camp 1 or Chanma Tee tent 4000m. From here separate trekk to Stok La (4880m) and to Stok Kangri Base Camp. I started from Stok around 10:30 and arrived here around 13:30. After a quick noodle soup lunch decided to continue walking to the Stok La camp, is just 500mH short distance. Tee shop guy told me, there is no water in Stok La camp site, so i filled two litre Yaks and donkyes pissed water in my Platypus from the river. Well, it's not really bad at all. I've never get sick from the river water.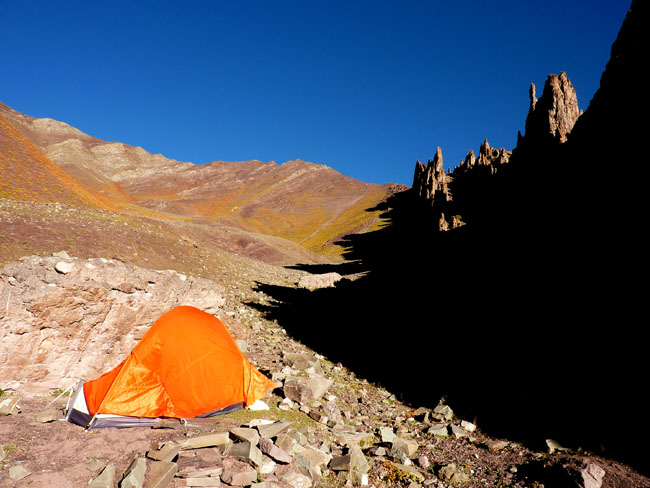 First night at Stok La Camp 4500m and Stok La (4880m) in behind. It is very desolated place to camp and there are many mountain goats here.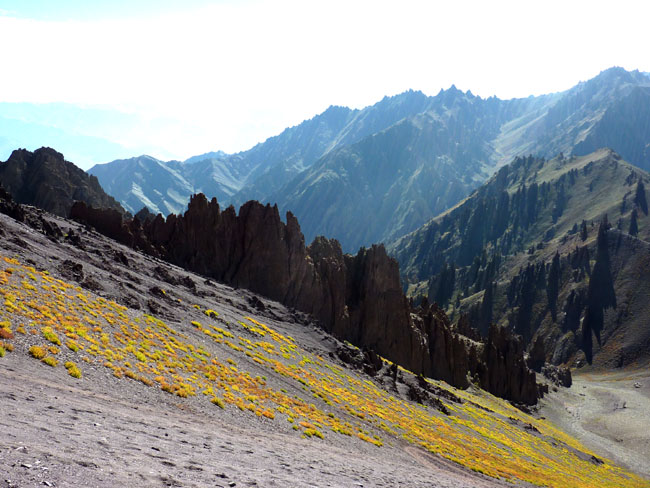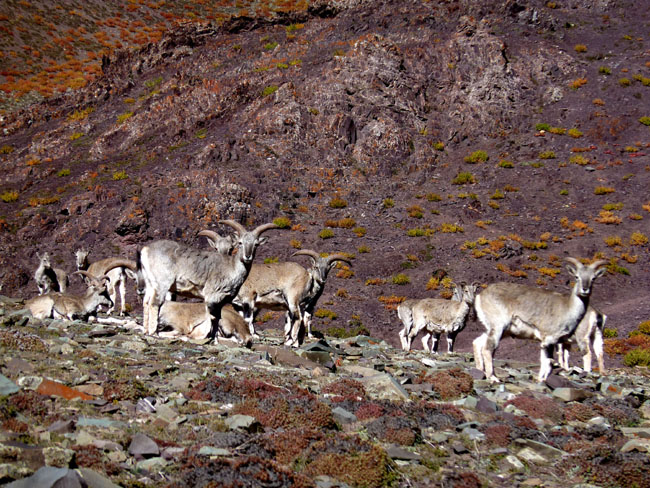 They stay always with safe distance.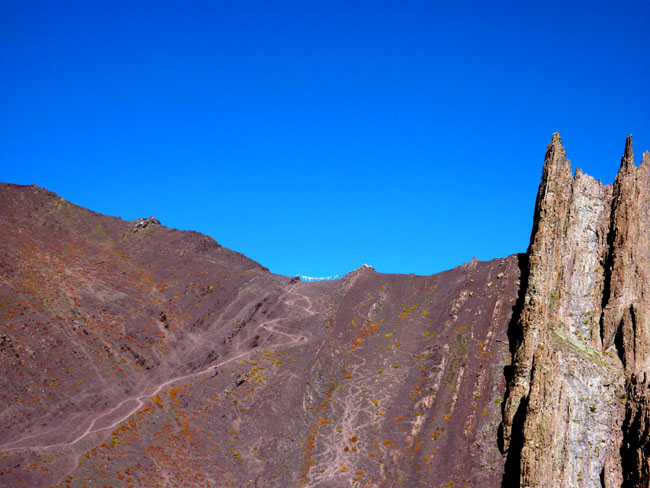 Just about 300mH to Stok La (4880m) and typical prayer flag on the pass, to be welcome.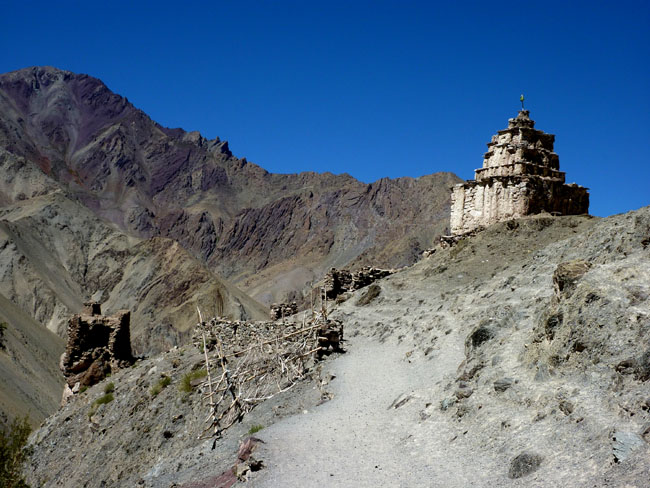 Hikking down to Village Rumbuk.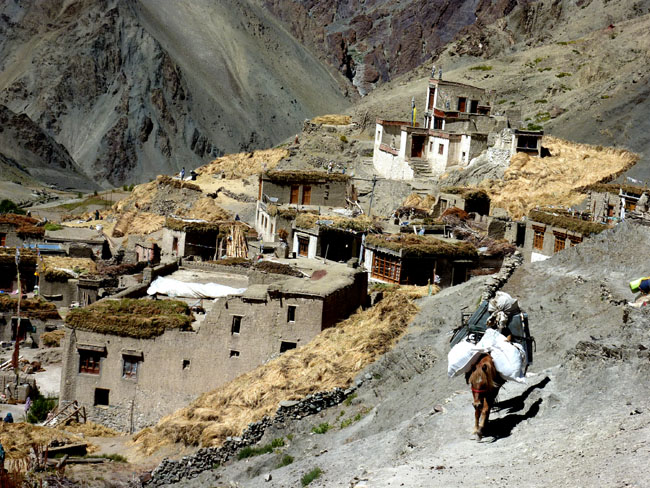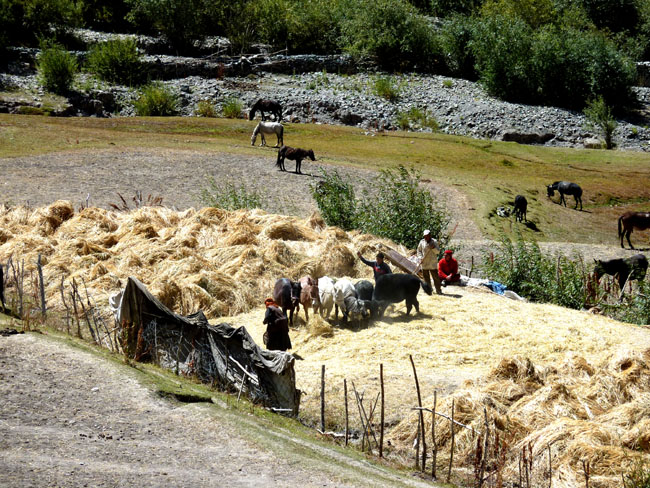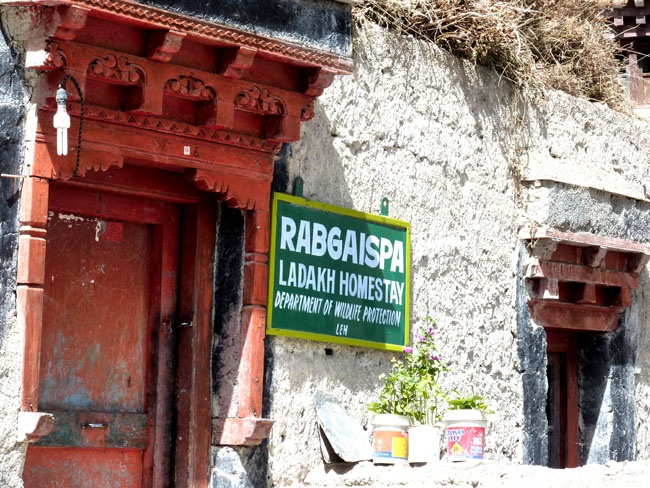 I just dropped in this house for having a cup of tee. Homestay is very common for a trekker, who don't own camping equipment. It's cost 350 rupies for stay overnight, inclusive no surprising shabby dinner and breakfast.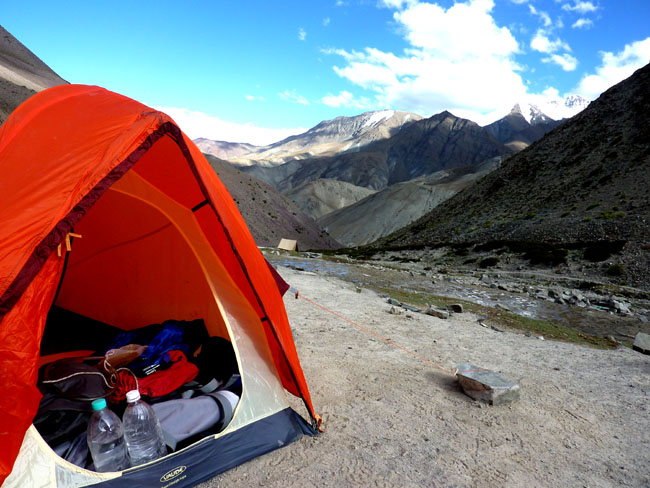 Second night at Ganda La camp 4300m. It was also empty here.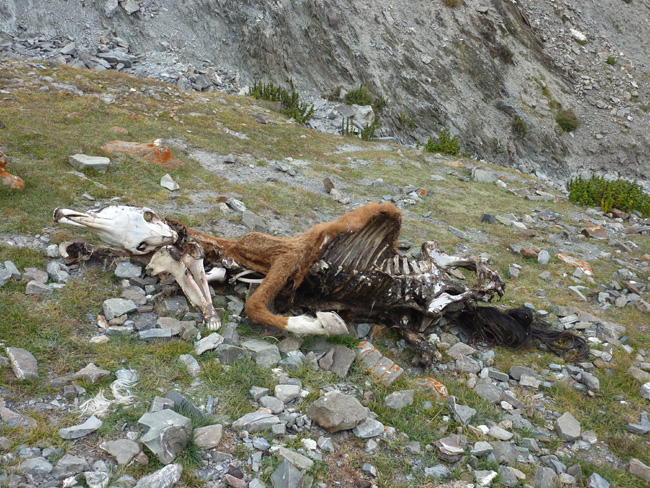 Hikking up to Ganda La. Really sad to see why they ended up like this here. May be totally overloaded and could't hold out under the stress?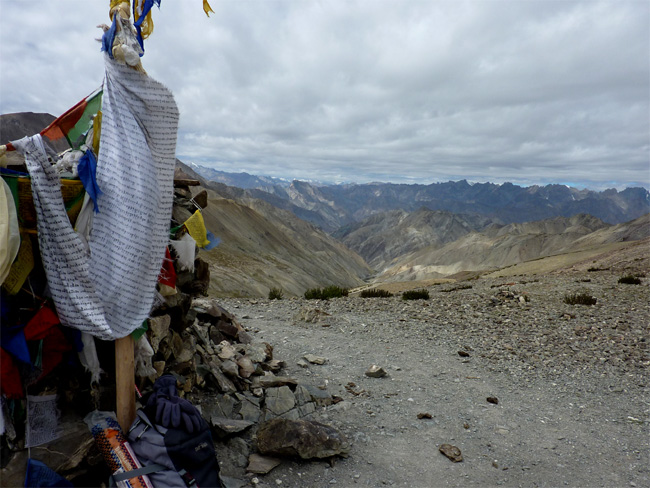 Ganda La. 4950m.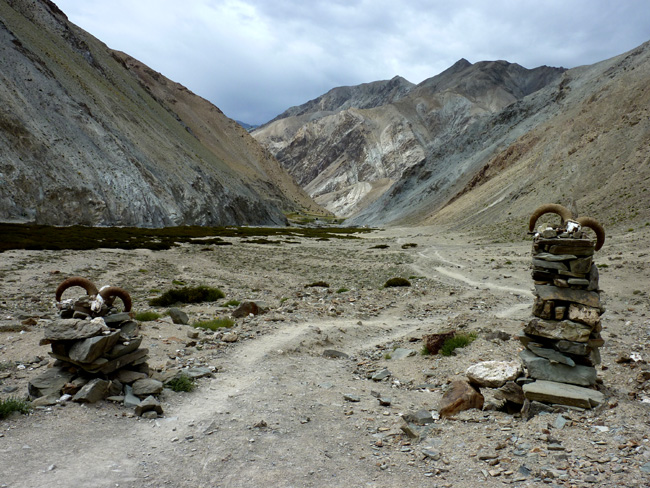 Hikking down to Shingo 4100m and to Skio 3400m.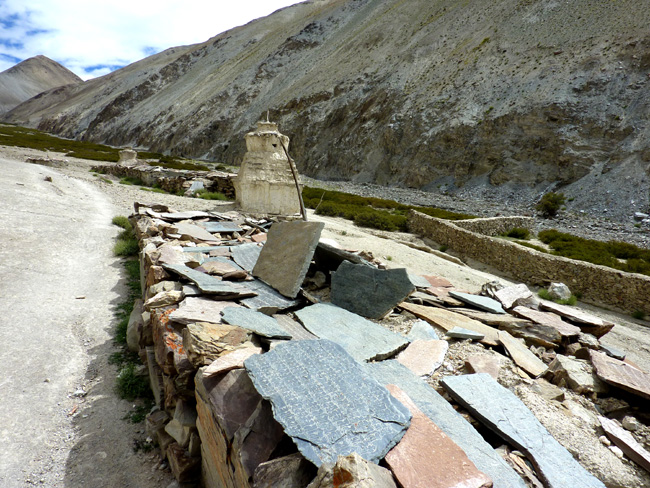 Village Shingo 4100m.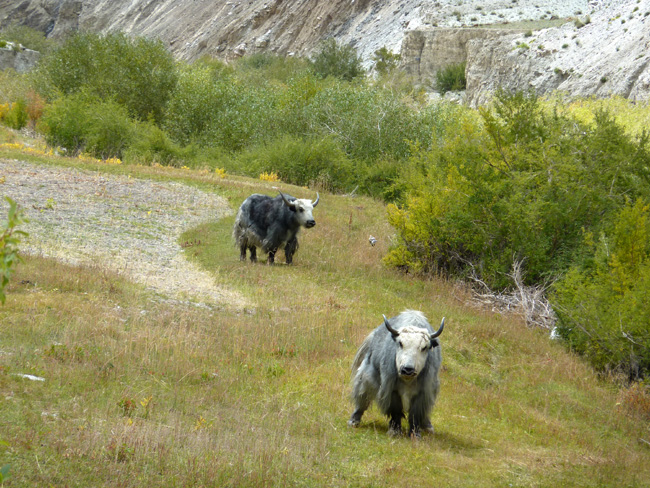 These yaks were looks like a Panda bear!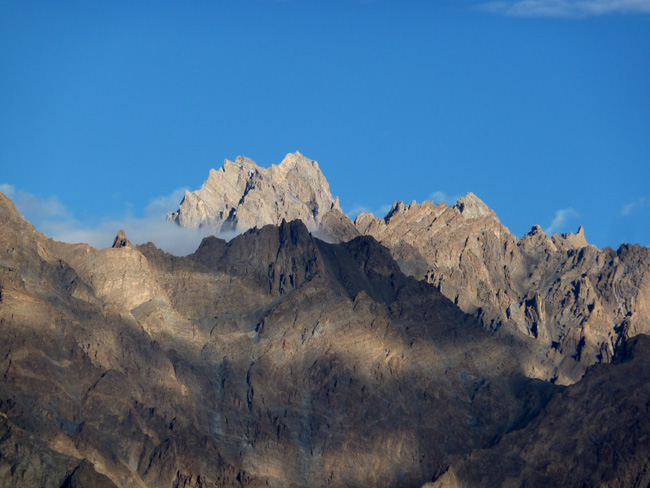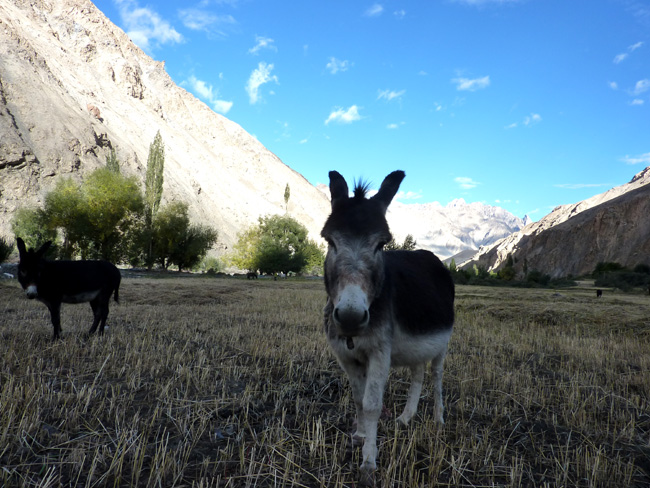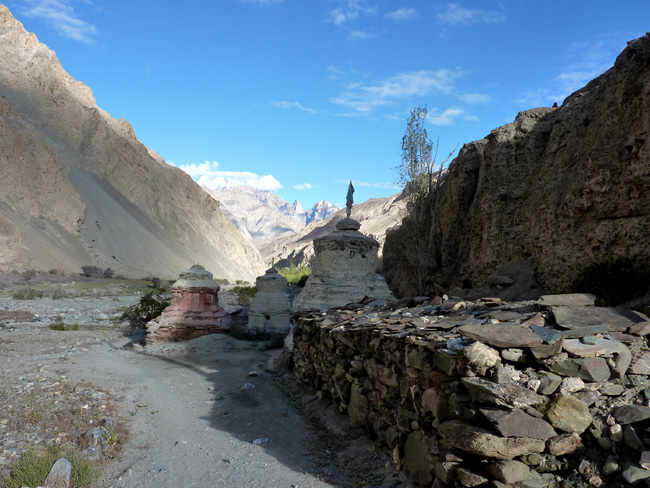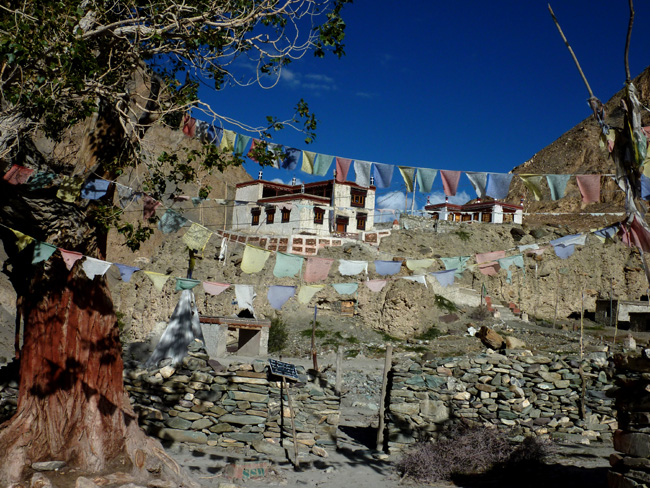 Village Skio 3400m. The popular Markha Valley trekking route go through this village.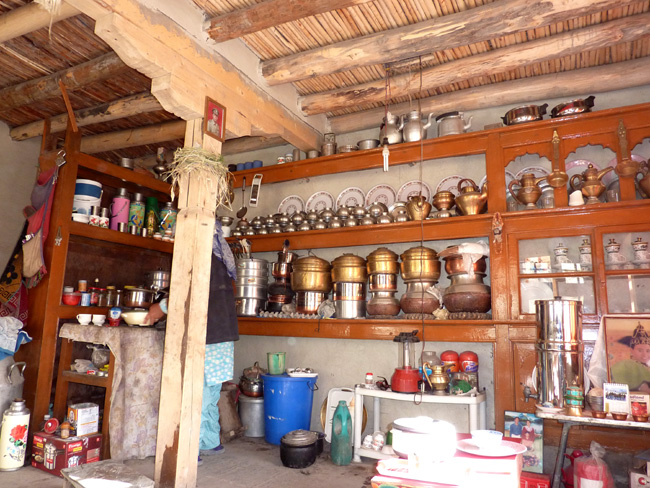 Third night at Homestay in Village Skio.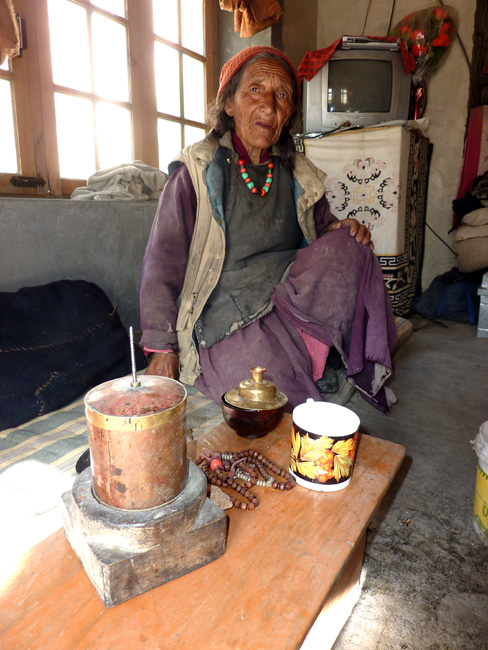 The villagers complained that this summer had unusual heavy rainfall, it destroyed many harvest. I've heard that approximately 120 people died near Leh city becouse of heavy rainfall and landslide. Same time;unusually heavy monsoon rains have caused dramatic flooding in northwest Pakistan. In the worst floods in 80 years in Pakistan, according to authorities reported 1,580 people died. Hundreds of thousands are homeless and affected more than 2.5 million immediately.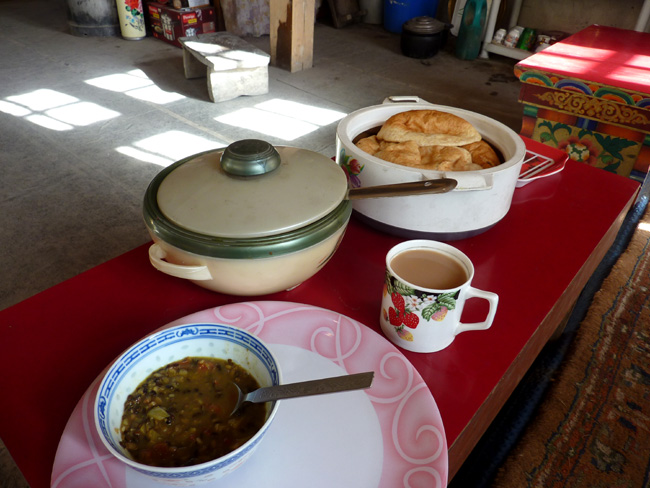 Very Welcome varied breakfast, since i've eaten only Power bars and chocolates at the breakfast and dinner, since three days. I didn't brought any cocking equipment with me, cos i knew that there are no many trekker on the way in the end of season, so that you have no problem to get food from Homestay.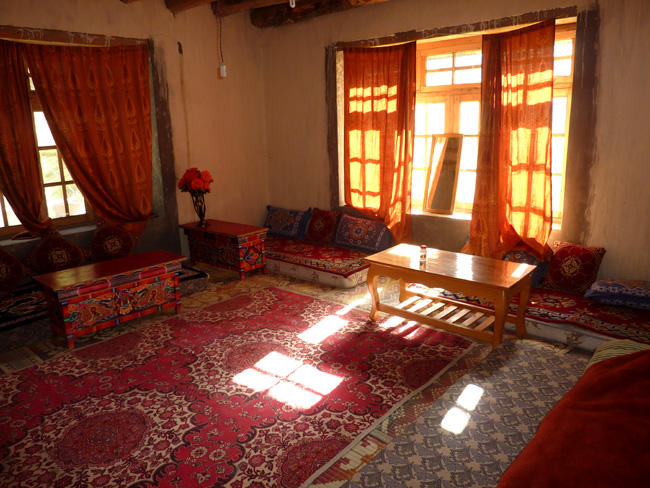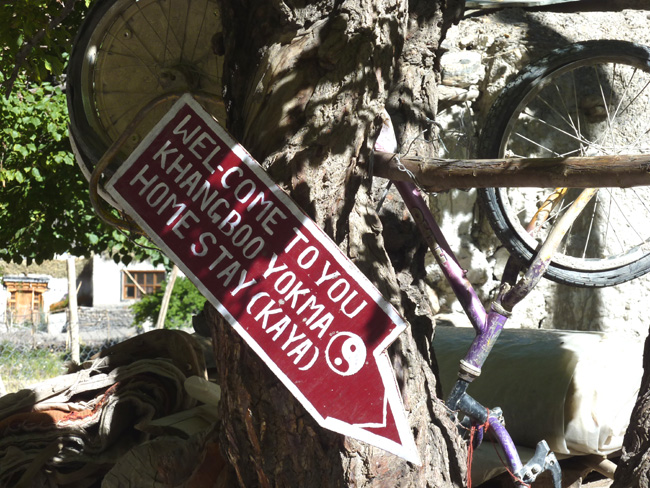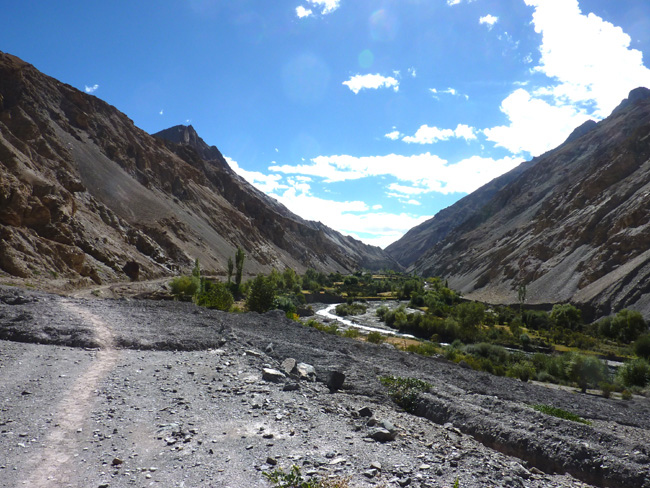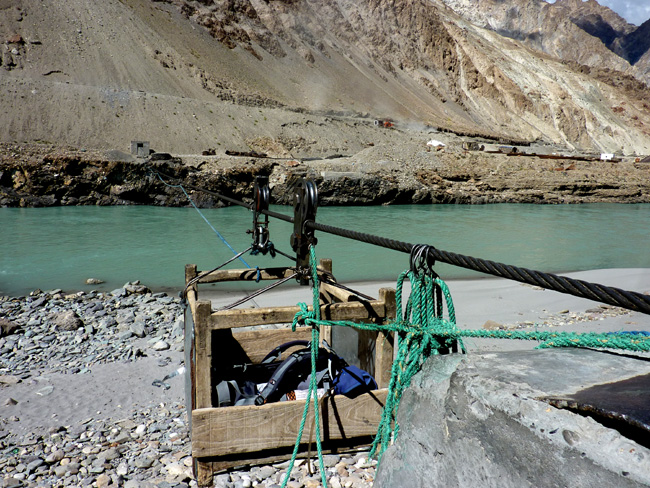 Zanska River crossing with gondola. It looks risky but, no shaky or go wild, but get in to cart need balance act. From here to Village Chilling is just in half hour distance.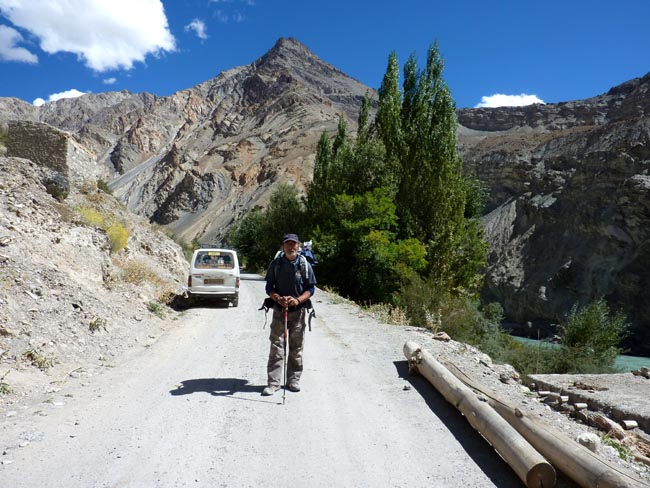 Village Chilling 3200m.
The end station for 3 1/2 days trekking tour. Fortunately, one Taxi was just arrived from Leh. So i talked to taxi driver and he agreed with 100 Rupies for return. It's about 40 Km drive.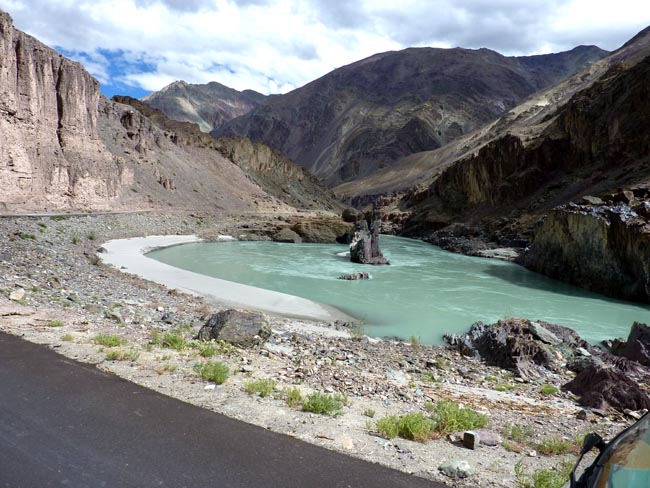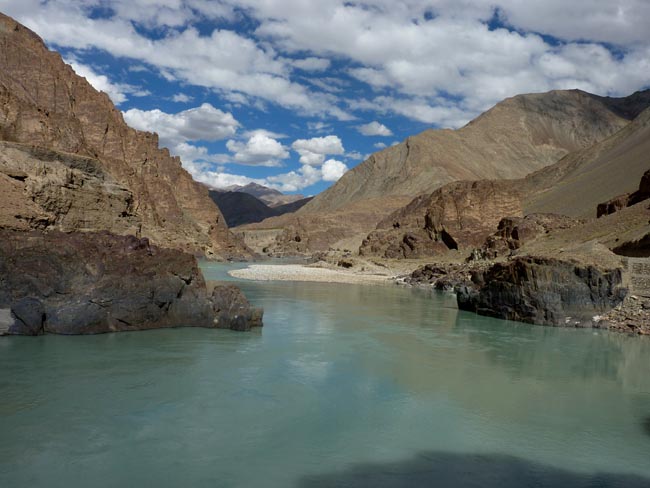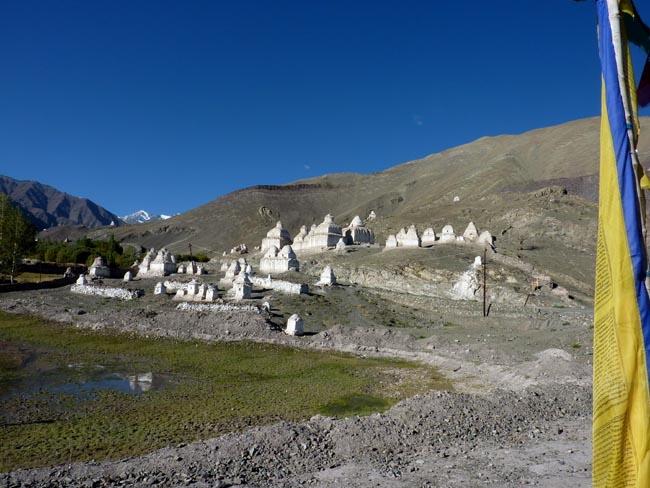 Village Stok again. 3477m
The climb is completed by most in 4 days, where the first three days are spent ascending slowly to the ABC camp at 5300m and day 4 are spent summiting and slow hiking back down to Stok. I figured it would take me 5 days but i had no food for an extra day. I've got me no crampons or ice axes. The end of season, Stok Kangri is so dry out. But better you ask to a agency before you start. In addition, i got me rental Gas stove at a climbing store in Leh this time. Price 50 Rupies per day and 450 Rupies for Gas carriage.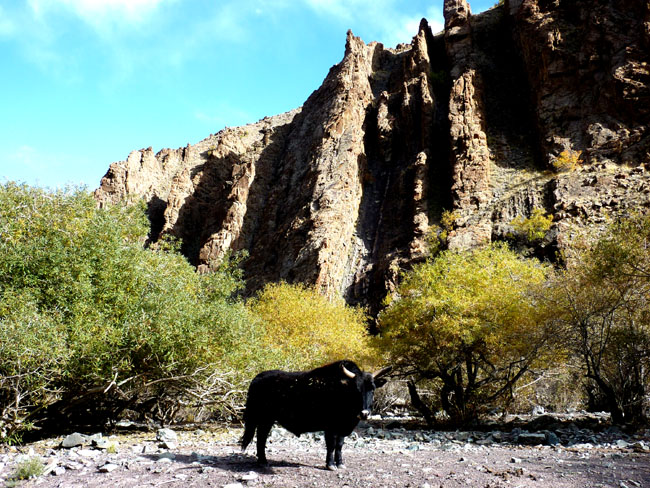 I hit trail at 08.30am walked up through interesting canyon There was a three guys who had just come down from the summit and looked really knackered. Greetings and my first question was "Did you used a crampons and ice axes?", "No".
I felt relieved!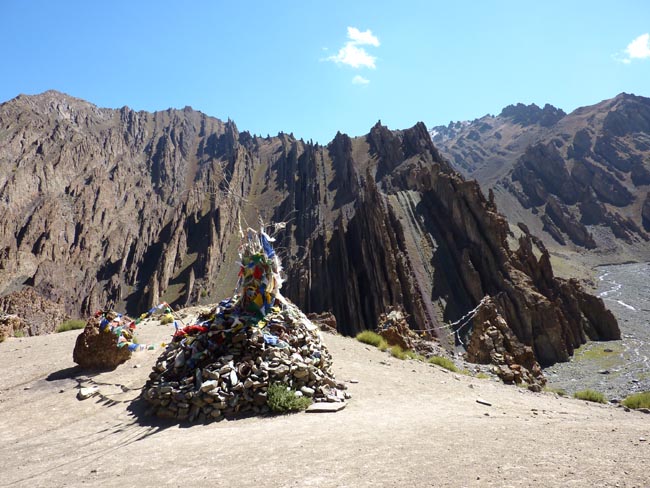 I started from Stok (3400m) around 08:00 this time and I still felt pretty good at this stage and decided to continue walking to the Mankarmo camp (4400m).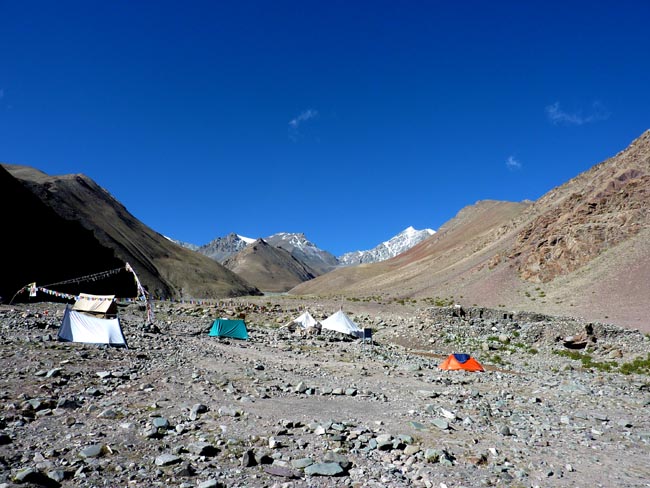 Mankarmo camp 4400m. The camp looked really empty. It's took me about 5:30h from Stok. I met only one trekker here. All camps are close after 01 October, so if you climb later time stocked up enough food in Leh. I've heard that, cos the locals walk very fast, so some people a kind of lost track of donkey man and his animals the whole day and people were relieved to see him at camp very late.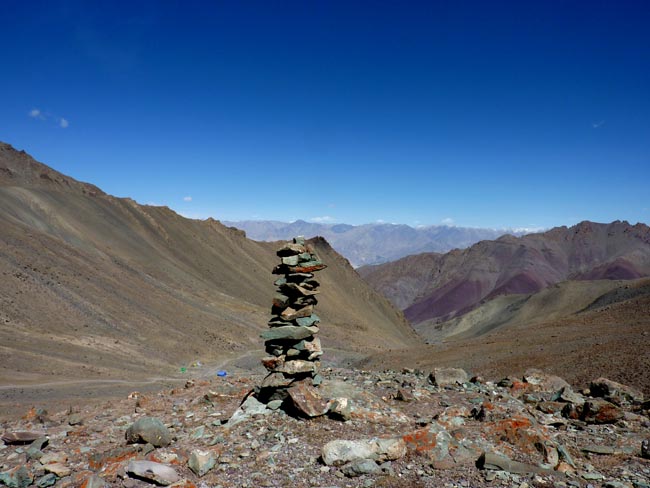 Base camp 4800m. I saw a some poters tent. Most people (with porter and donkeys)prefer to stay here. For most people is tough getting some sleep at 5000m elevation. And it is even tougher getting out of warm sleeping bags in the middle of the night! If you start from here, it's 1300mH to push up on summit day! To ABC camp is just 500mH to get from here and i still felt pretty good and have no headache, so i decided to hikking up to ABC 5300mH.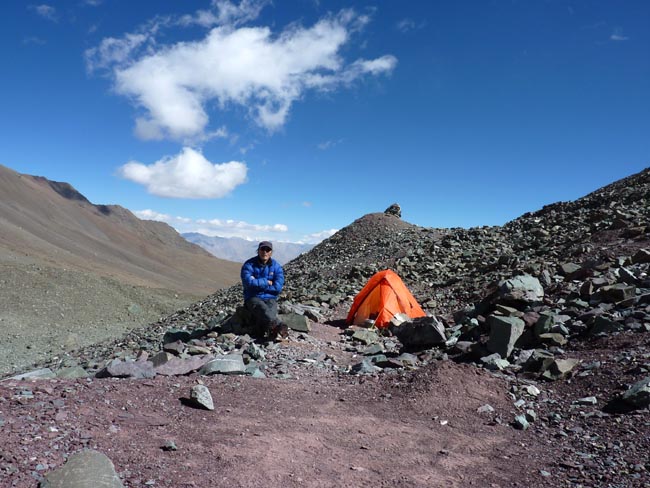 At ABC 5300m
Today i started from Mankarmo camp(4400m) around 10:00 and arrived at ABC(5300m) around 14:30. I,ve got pretty sick of carrying my heavy packs. It was so much having to carry all that crap! Or may be i was too dehydrated.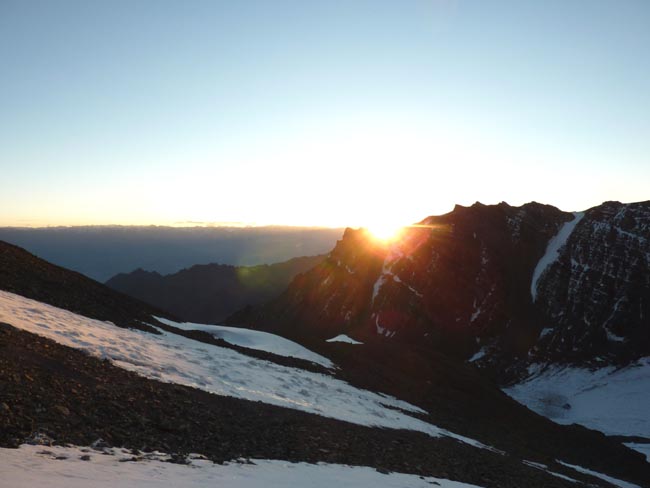 I got up around 4:00Am, since i don't have to harry up to climb 800mH today. I knew that to find the trail with headlamps can be problematic. Just in time the sun rising and the trail was clear to see. My breakfast was cold tee and one müsli bar tried to chomp down.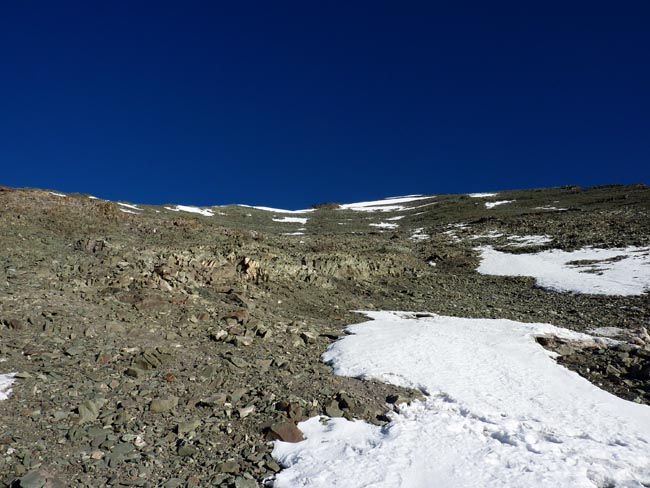 The first stretch was a fairly steep gradual climb up the moraine of the glacier flowing down the valley to the East of the summit and route lead to left side of shoulder.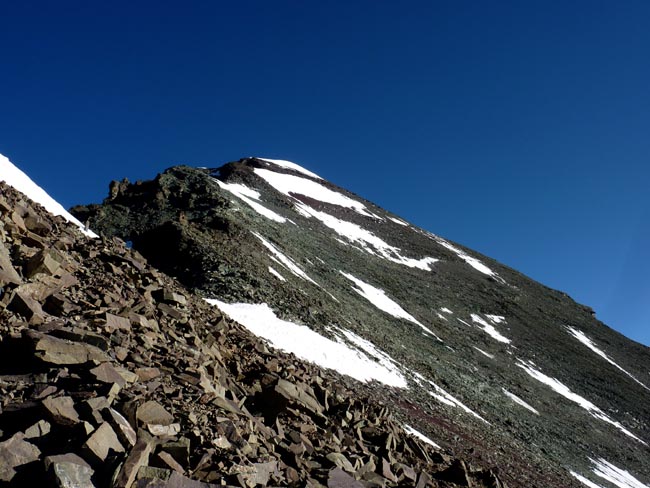 Which side of flank to climb depend on how much snow-covered and since i have no crampons and no ice axes, i stayed on rocky shoulder or right side of flank.

The trail then zick-zacked up the scree slopes straight towards the summit of Stok Kangri.

What a view i had! Along on the summit of Strok Kangri!

I started from ABC around 04:30Am and a kind of slowly hikking up, cos it was pretty cold for me in my walking boot and thin fleece glove. I know some people climb with running shoes this mountain! I reached to the summit around 09:00Am and then headed down to ABC, packed my staff, hikking down to Stok, reached in Stok 3600m around 17:00 and a local bus took me back to Leh around 18:00.
It was long day! 800mH up and 2500mH down!

View of Karakorum. K2 and Broad Peak. In 1997 i was on Broad peak. It's nice to see it again.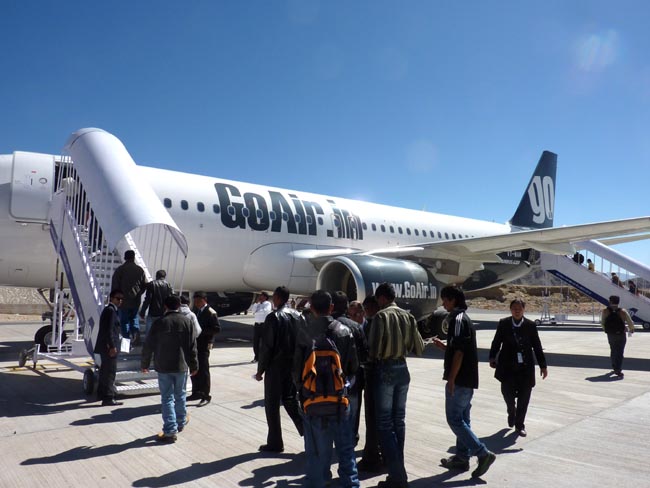 .
Return to New Dehli by Go Air, which is a new domestic Airline in India and i paid only 4700 Rupies.

photographed on flight Leh-Delhi. K2, Broad Peak and Gasherbrum far off.

© 2010 by Minoru Otsuki